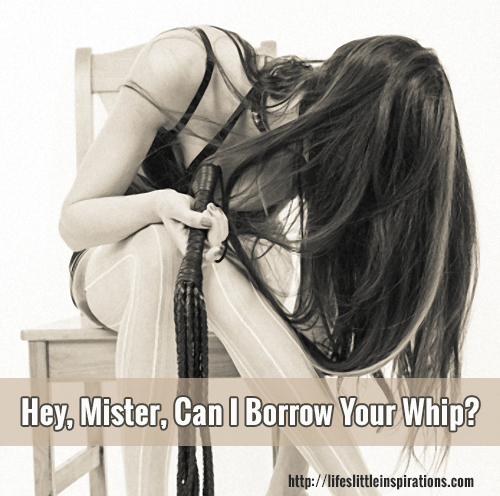 The list is long. 
Way too long.  I am bone- tired, weary to the curled knuckles of my toes still trapped in my too-tight shoes. I would cry, but the dam must hold or the torrent unleashed will be relentless.  I cannot cry. It is an unspeakable luxury afforded to others with different lives. Not mine. Not for one who has too much to do, too little time, and no one to turn to. 
Hey Mister, can I borrow your whip,  a little flogging might get the job done tonight. 
Something must be wrong with me, I'm such a looser. I say I want to be a success and then all I do is whine about how tired I am and how much I want to quit. Who do I think I am? I'll never get anywhere like this. What was I thinking? Why did I announce to the world such grandiose goals? Such a dreamer! Such an ass! Now I'm stuck… middle of the night and I have to get this done….
HEY! YOU! Yeah, you- the one over there with the whip, flogging yourself in the middle of the night for tasks left undone. 
Have you considered putting the whip down? Have you considered that maybe getting a decent night sleep would be more productive than the verbal abuse you are vomiting all over yourself? You really are talented, you know. But even the most talented person alive won't perform at their creative best while being abused, pushed to the wall and sleep-deprived.
Here…take my hand, put down that whip. Tell that taskmaster living inside your mind to give it a rest. She has picked on you long enough for now. You need some tender loving care. A nutritious meal, soft lighting, maybe a bubble bath. How does that sound? And… some clean clothes? Ones that fit and make you feel pretty? Yes- you DO deserve that. No… not when you finally reach your illusive ideal weight. You deserve to feel pretty and comfortable right now. So that you can think. And function. And focus. Create.
And love. 
Yourself and others.
It's hard to love when you are being whipped and beaten.  It's hard to love when you are being ridiculed, abused, overworked, pushed to the limit, ignored, emotionally pent up until you feel you will explode.
It's… hard to create, hard to produce, own a business… hard to trust.
So stop doing that to yourself. Okay?
Do you want to learn how to put the whip down? Join Wendi & Deb in a Journey to the Center of Your Heart, beginning in Nov, 2013.  Discover how unconditional love – especially unconditional self-love, self-respect, and self-confidence can change your life forever more. And! Did you love this post? Share! Spread the love with your friends! And subscribe to Around the Studio so you never miss a new post!  Thanks for reading! 
Comments
comments